Suzanne Needham Ceramic Artist
Suzanne is a ceramic artist working from her home studio in Wokingham, Berkshire.
Having worked in the creative industries all her life, the freedom and endless possibilities of working with clay provides a welcome contrast, to her work as an artist for a professional model making company.
Suzanne's hand built ceramics are largely influenced by Asian design, pattern and colour and working mainly in stoneware she makes small, decorative bowls and boxes, alongside female form sculpture.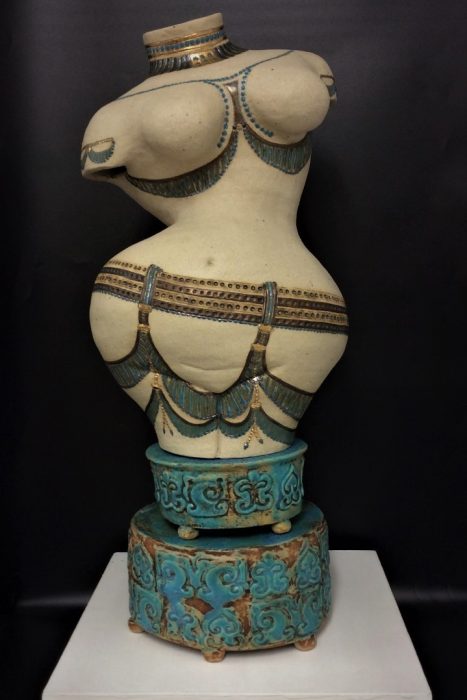 Sculptures
The female form and how it exists in the ideal, from Augustus Rodin to Beryl Cook, inspires Suzanne to create sculptures that change and evolve from realistic to stylized.
Drawing inspiration from the architecture of ancient Hindu temples, Suzanne's figurative work took on the form of the voluptuous and adorned Goddess sculptures that grace the temple walls. The figures twisted and exaggerated poses, encapsulate a fluidity and fullness that lends itself to be recreated in clay. The curved and rounded form is further enhanced with incised 'henna' designs.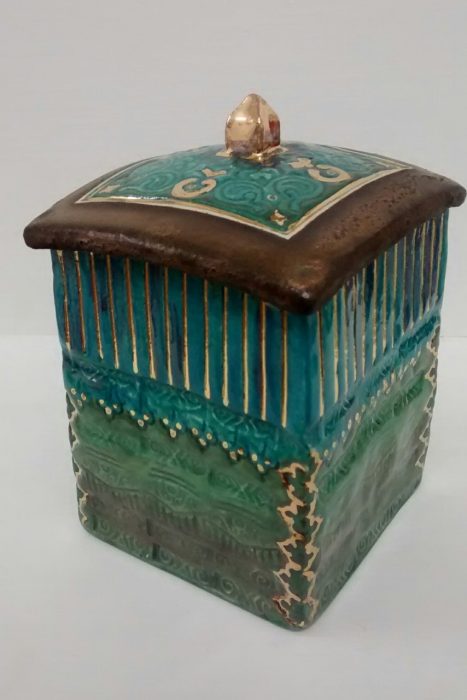 Boxes
Suzanne's decorative bowls and boxes demonstrate clay's ability to retain the detail of fine patterning and texture. The bowls and boxes are all individually hand-built in porcelain and finely painted using colourful underglazes that compliment the intricate designs.
The use of gold lustre both in the Goddess sculptures and porcelain boxes adds a decadent embellishment that is pleasing to the eye.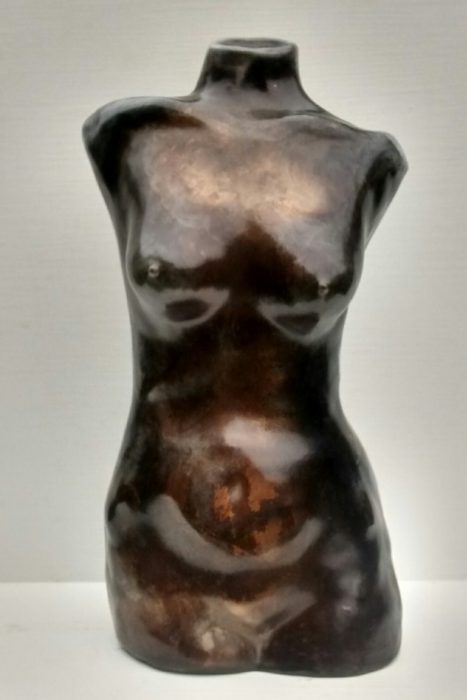 Smoke Fired Torsos
By way of a contrast Suzanne's smoke-fired torsos present a more organic and natural surface.
Soft, muted colours of earthy tones are created, which subtly enhance the feminine curves of each torso. Within the technique of smoke-firing, Suzanne can let go of control and leave her work to the elemental forces of wind, smoke and fire, thus enabling each torso to be unique in its own right.